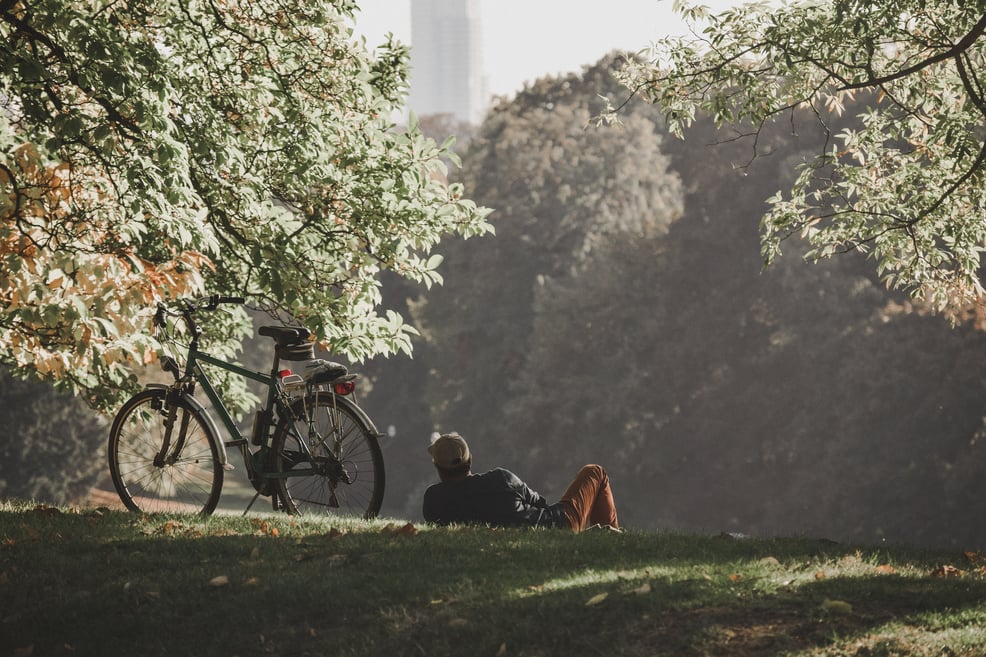 You Need A Virtual Commute
When teams were first forced home in the early days of the pandemic, there was a quiet celebration of the new 'work from home' lifestyle. We've enjoyed ditching the daily commute in favour of more sleep, which has been helpful for working parents and caretakers.

The time we're getting back is lessening stress and increasing productivity, but even though we've said goodbye to traffic jams and endless bus rides, we often miss the reprieve that being trapped in time gave us.

Commuting was a chance to decompress - a buffer, if you will, between leaving behind a tense day at the office and resuming our duties at home. Catching up over the phone, reading a few pages, listening to a podcast or simply taking some quiet time to ourselves fit seamlessly into our day.

But that opportunity to transition into work and come back down to earth afterwards has pretty much disappeared now.

So, how are we spending all that extra time?

Turns out, we're just working more.

A Statistics Canada survey reported that when 3.1 million Canadians were working from home shortly after the initial lockdown, 35% worked longer hours and at least half of those surveyed were in management. Even still, 80% of telecommuters prefer to work from home at least half of the time, but it's clear that knowing when the workday ends and begins is challenging.

As we move into another year of restrictions, it's clear that remote work is now just ordinary, everyday reality. Working scenarios for employers and their people will continue to shift toward greater flexibility, requiring physical and mental adjustments that go beyond whether you should order that standing desk.

Some of the things we've lost to the pandemic were things we didn't know we valued until they were gone - time spent howling our lungs out to our favourite song playing over the radio while stuck on the 401, carpool conversations, or sticking around a little later after work to commiserate over happy hour.

They say you don't know what you got till it's gone, but we say once you do know, there's always a work around - and this time it's really about transforming the way we use time - so that it serves us just as well in this new work-life dynamic.
The virtual commute gives you the best of both worlds - no actual traffic jams in snowstorms, and that hour or two in the morning and early evening where you get to decide what would make the flow into and out of your workday better.

Here are some ideas.

Keep your routine. Rising at an ungodly hour to accommodate a commute used to make us want to hit that snooze button as many times as we could, but early mornings don't hurt as much when you're no longer dreading them. Keep your wakeup routine and do what would make you happier for the rest of the day in place of your old commute.

Divvy up your day, the day before. Not all of us are big planners, but even having some semblance of a schedule is helpful. It's good to know what needs to get done and what you can look forward to once you actually get it done. The time you would have spent in traffic can now be used to help you figure out how to make tomorrow more fruitful.

Wind down, but for real. Even the most productive days feel good for only a few fleeting moments before it's onto errands, dishes, dinner and life. Take a stroll, throw on some tunes take a dance break! Indulge in a hot shower, change into something comfy and promise to really be present before resuming other roles.

Take actual space. Working from home is fantastic, but working near home is even better. A change of scenery is the breath of fresh air every brain needs to Make Smart Work. Book time at a space near you, or make plans to work with friends and coworkers for a healthy exchange of energy and ideas.

All that work-life freedom, as we love to call it, is finally for the taking.

How work and life will shape out in a post-pandemic world remains to be seen, but in the meantime, why not let your commute work for you?